Talking to your kids about Covid-19
As a parent, it definitely hasn't been easy managing all the changes in rules, online learning and continuously explaining to your kids what's happening. Many people continue to work remotely from home while juggling work demands and supporting kids with online learning.
It's parents' responsibility to teach kids about what is happening with Covid-19. While the discussion of why it's important that we stay home and social distancing might easy, it's still important to check in with kids often
When talking to your kids about current events, the trick is to find the sweet spot of knowing just how much information you should share. This is true for Covid-19 but also important issues around current events.  
Provide them with just enough information so that they aren't constantly thinking about the worse case scenarios. Here are a few things to consider when talking to your kids about Covid-19. 
1. Understand what they know
Depending on the age of the child, they could have gotten some information on their own. Simply ask what do they know, will help you gauge the conversation. 
They might already be scared or be very relaxed about it. Either way, this question helps you prepare how you should frame the key points of what you want to be shared. 
If they aren't willing to talk, it might help to do something they enjoy and distract them while you bring up the topic. You can ask questions like:
Try to focus on what they can do to stay safe and stay healthy. Stress the importance of wearing masks, hand washing frequently, and socially distance. 
Explain that it's what we all need to do so that fewer people get Covid-19 and spread it to others. Make it a part of a daily routine so that it just becomes second nature. 
We all know that these times aren't easy for anyone but there will be a time when this will be behind us. While we don't know when that will be, it can be helpful to give kids something to look forward to. 
3. Anticipate questions before they get asked
No one knows your child better than you do. Based on their personality, fears, and past you might be able to predict how they might be handling everything. 
Each child is different so in some cases, it might be a good idea to speak to each child individually. Make sure that the way you talk to your child is age-appropriate and that the way Covid-19 is explained is done in a way that they can understand. 
Tell them about all the healthcare professionals who are taking care of everyone that is sick and the essential workers who continue to sanitize and take proper measure so that when people do have to go out, they are safe. You can explain to them that a vaccine is being distributed to people first who are the most vulnerable. 
It can be hard to know just how much to share with your child. You want them to feel safe and calm but you don't want them to feel like you are hiding things either. If you think it will help, you can have them speak to a mental health professional. Check out this list of news sites that are approved for kids. 
Parents are kids' role models no matter how you want to put it. They are always paying attention to what you say, what you do even if you don't think they are. It's okay to be honest with your children if you are stressed or having a hard time. 
It shows that you are human. Letting your kids see how you handle difficult situation and come out of will teach them more than you realize at the moment. It will also show that it's okay for them to feel however they feel. 
Information about Covid-19 and the vaccine is constantly changing. It's important to maintain a dialog with your kids. Remember there is no right or wrong way to have these conversations, what's important is that the conversations are taking place. 
Even if you've had the conversation, continue to have it as things change and check in once in a while. Be patient but even more important be patient with yourself as we navigate these times. This isn't easy for anyone. 
If you're trying to educate and teach your kids what we need to do to protect yourselves, it's important that you lead by example by following all the rules put in place to keep everyone safe. 
No parent can't claim to have all the right answers about anything, especially Covid-19. All you can do is do your best. Try each and every day. Go to sleep and do it again the next day. 
This comic posted by National Public Radio (NPR) is a great example of the main points that you should cover with your kids. You can even print out a foldable version for your child to read on their own.

If you need more help explaining how the virus is transmitted, the "How Do People Catch a Cold?" episode of Ask the StoryBots on Netflix (geared towards children ages 3 to 8) may help.

Time to Come In, Bear is a children's story about social distancing, illustrated and read aloud on YouTube. The story explains why social distancing is necessary and emphasizes how it can be fun for little ones.
This isn't easy for anyone but as you have these conversations and live through this pandemic each day, remind yourself that you are doing a great job.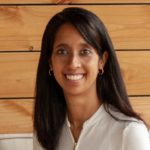 Shereen is a passionate marketing professional with over 7 years of experience in executing traditional and digital marketing strategies across diverse industries. With a background in both agency and client-side roles, Shereen has successfully implemented effective marketing campaigns that have yielded a positive return on investment. As an energetic individual, Shereen possesses strong organizational and communication skills, ensuring seamless team coordination and collaboration. She thrives in process-driven environments, paying meticulous attention to detail while remaining focused on achieving results. With a proven ability to manage multiple projects in competitive and fast-paced settings, she is dedicated to driving success through strategic marketing initiatives.